Packaging
Sterling Wire Products offers a variety of packaging options. Traverse wound and catchweight coils, as well as metal, wood, or plastic spools can accommodate your payoff or equipment needs. Straightened and cut wire can be shipped in wood boxes or PVC tubes to protect it during shipping. Special needs? Just ask.
COIL SIZES AVAILABLE
ID
MAX OD
TRAVERSE
MAX COIL WT
20"
40"
6"
~1200#
16"
40"
6"
~1600#
16"
26"
5"
~350#
~5'
5.5'
CATCHWEIGHT
~1200#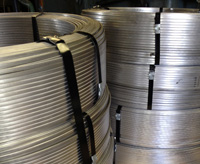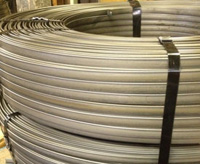 WE SHAPE WIRE – and we package it to arrive safely in the format your factory needs.
SPOOL SIZES IN STOCK
FLANGE DIA
CORE DIA
TRAVERSE
MATERIAL
30"
14.5"
11.25"
Wood
24"
16"
6"
Wood
24"
10"
5"
Wood
10"
4.5"
6"
Steel
12"
8"
3.5"
Plastic
12"
3.5"
4.75"
Plastic
8"
3.5"
4.5"
Plastic